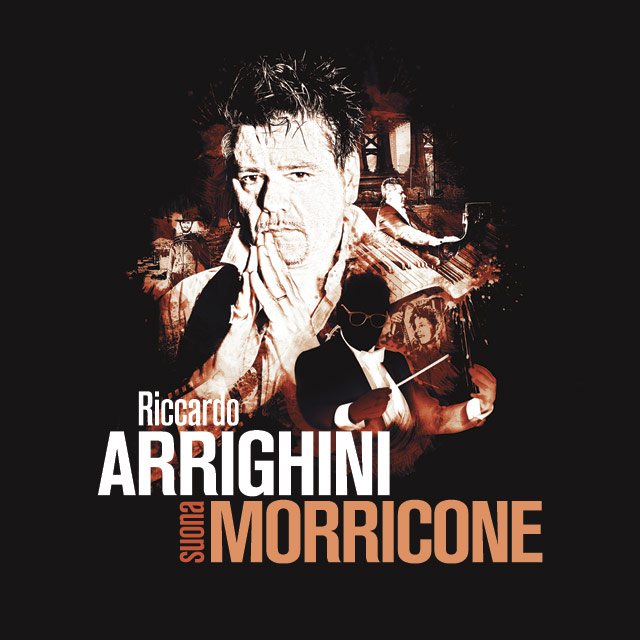 NOTHING BUT MORRICONE
Riccardo Arrighini takes on stage one of the greatest living composers, Ennio Morricone, and he's doing it once more in his personal way, the same he used to rearrange Puccini, Verdi, Chopin and Vivaldi.
One more time, he tries to find a distinctive feature, a differential element capable to create added value to his arrangements and to his solo technique.
He realizes this project with an orchestral ensemble composed by ten strings, French horn, oboe, flute, soprano saxophone, accordion, guitar, voices, rhythm section, percussion and keyboards that he planned and rearranged.
You will listen to the themes of Sergio Leone's famous soundtracks, "Spaghetti Western" and much more, which we all know and connect to history of the great "cinema d'auteur": "Once Upon a Time in the West", "A Fistful of Dollars", "A Fistful of Dynamite", "Once Upon a Time in America", "The Legend of 1900", "Mission", "Cinema Paradiso" and many others…
Arrighini chooses nearly always to rearrange romantic composers, with a prominent melodic strength, persuaded of the central role of melody, around which lies the pleasantness of human hear. As long has the melody is the driving force of the arts, lots of different timbres, rhythms, harmonies can be improvised.
Recorded in Viareggio, November/December 2011, at the recording studio "House of Glass" of Gianni Bini
Recorded and mixed by Christian Lindemann
Mastering by Gianni Bini
Produced by Gianni Bini
Executive Producer Riccardo Arrighini for Soundgeance, RA Productions
Musical arrangements by Riccardo Arrighini
Supervisor of musical arrangements Ugo Bongianni e Gianni Bini
Words of "Playing love", "Gabriel's oboe", "Deborah's theme" and "Love theme" by Michela Lombardi, words of "Death theme" by Emiliano Loconsolo
Riccardo Arrighini – piano
Michela Lombardi – voice
Helen Tezfazghi – voice
Emiliano Loconsolo – voice
Ugo Bongianni – additional orchestration / programming and keyboards arrangements
Antonello Pudva – electric and acoustic guitar
Valerj Zacarov – oboe
Domenico Mattioli – french horn
Claudio Fabiani – western concert flute/ piccolo/soprano saxophone
Gianmaria Chinellato – accordion
Gabriele Evangelista – double bass
Andrea Cozzani – bass guitar
Michael Baker – drums
Ettore Bonafè – percussion
Francesco Carmignani – concertmaster
Emiliano Binetti – first violin
Norma Lindemann – first violin
Antonio Lucariello – second violin
Gioele Antonioni – second violin
Nicola dalle Luche – second violin
Asita Fathi – viola
Gianmarco Zenni – viola
Giampaolo Perigozzo – cello