Like children on a wide lawn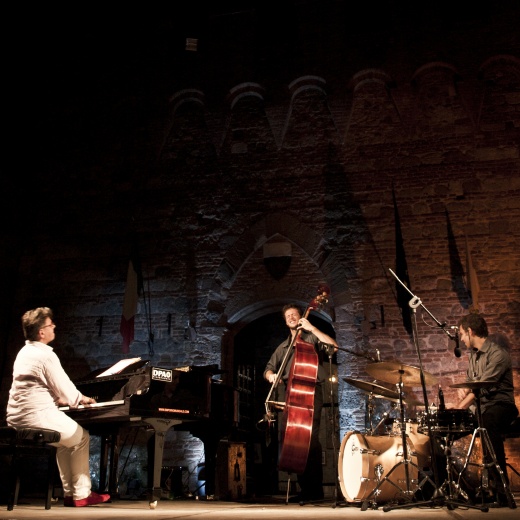 RICCARDO ARRIGHINI TRIO
Riccardo Arrighini – piano, glockenspiel, live electronics
Pietro Martinelli – double bass, live electronics
Emiliano Barella – drums, percussions, live electronics
The Riccardo Arrighini Trio was founded in March 2012, from an idea of Ricardo Arrighini, the pianist who fused classical music and opera with jazz.
Thanks to this musical fusion, Arrighini played at the most important Festivals and theaters all over the world, but he wished to explore a new sound for a long period.
As it's his custom, he searched for this new trio's sound in an unconventional way, treading on one side the same path as some legendary formations, for instance Bill Evans, Keith Jarrett and Paul Bley, on the other side he draw on modern trio formations as Brad Mehldau, Yaron Herman, Robert Glasper, Esbjorn Svensson, Aaron Parks, Creig Taborn.
To compose his Trio, Riccardo Arrighini chose two young musicians (Pietro Martinelli, 28 years old, from Genoa and Emiliano Barella, 25 years old, from Naples), two extraordinary talents of the Italian jazz. Their trio project met immediately the general consent and the approval of the critics and they started a tour of concerts all over Italy.
The Riccardo Arrighini Trio has been defined as "…cool, original, passionate and lively" and most of all "modern, Italian".
They define their sound themselves as dynamic and eclectic, amusing and suitable for the small jazz club as well as for the big stage.
Arrighini is a mature artist, 45 years of studies and experience, from now on he's flanked by two brilliant and innovative young musicians, both really different from each other's. Together they form a fortunate mixture of variances that harmonize and get on well in a unique ensemble.
An unconventional project, slightly "rebel" and that can be a mould-breaker of the jazz trio and at the same time top quality, with a fresh sound that aim at fresh minds.
The Riccardo Arrighini Trio's repertory is based on their album "Like children on a wide lawn", recorded on September 2012 (that will be released in 2013 for the Italian record "Abeat").
Original tracks composed by Arrighini, American evergreens and Italian pop songs rearranged in a new sound, with electronic instrumentation: every member of the Riccardo Arrighini Trio plays an active part in the arrangements and contributes with his own personal and musical experience.
CAUTION: IF YOU ARE NOT OPEN- MINDED, IF YOU CAN'T STAND A NEW SOUND…DO NOT LISTEN TO THIS PROJECT!