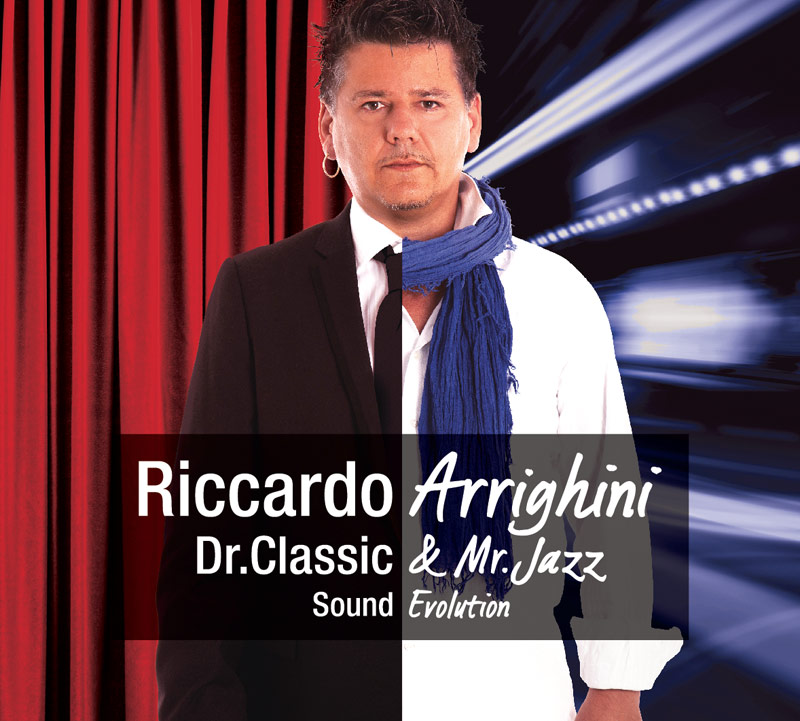 "Dr. Classic & Mr. Jazz: Sound Evolution" is a product of the eclectic mind of the pianist Riccardo Arrighini.
As the title reveals, the two personalities of the artist are woven in this project. On one side the "academic" feature, both classical than jazz, inherited by his father Franz, on the other side his "experimental" feature, electric-pop, screaming from the street.
The album springs from his desire to merge classical music with jazz and involve heart and mind of the listener. This fusion "refreshes" classical composers, using expert original arrangements and the musical culture of someone that plays, studies and loves music from the very first moment.
"I've always loved electronic" says Arrighini "I grew up with 80's sounds, the pop golden age of Michael Jackson, but also of fusion, of the "Pat Metheny Group", of the "Steps a Head" and of the "Yellow Jackets", the age of Miles Davis…this sound left a permanent mark in my life. To quote Joe Zawinul (leader of the legendary band Weather Report) we end up playing the music we loved when we were young, because is the only way to tell the truth…"
To accomplish this, the musician avail himself of the collaboration of the keyboard player Ugo Bongianni and of his impeccable arrangements. The two artists worked at the preproduction phase for months, harmonizing every track, tuning up every single chord and groove, every sequence, pad or moog, so that nothing turned out to be predictable but everything could sound up-to-date.
The result is an extraordinary twine of grooves, along with percussions and other electronic sounds.
Arrighini, among the top of his field, managed to achieve his fascinating goal to merge the melody of the great authors with modern sounds with a touch of pop, lounge, ethnic music or dance, seasoned with Jazz music that allows the artist to follow the moods of the moment.